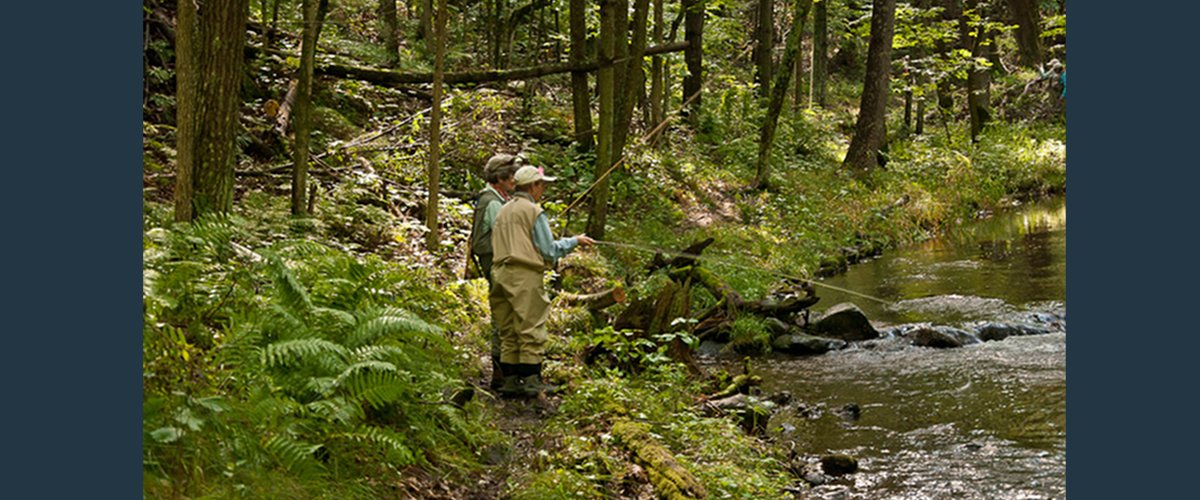 Date(s) - 06/29/2018 - 07/01/2018
All Day
FLY FISHING WOMEN OF MINNESOTA, is offering a weekend of guided instruction in order to pass on the joy of the outdoors and fishing to 12 women/the next generation of girls (12 yrs.+ ) who might not have a chance to learn this on their own.
Our club is offering a safe and fun weekend of fly fishing instruction for women and girls (must be accompanied by a female relative). Dates are June 29 – July 1, 2018 in southeastern Minnesota with fishing on the Root River.  Accommodations will be at Trailhead Inn in Preston, MN.  The Club will match you with a woman club member who will act as your instructor for the weekend.  A kick-off meeting is planned Saturday, June 9 in Afton State Park 9:00-11:30am to get to know each other and learn knot tying.
Cost: $200 per person. Some scholarship money will be available. Scholarship information is on application form. Full payment is expected by June 9, 2018.  If there is a need to cancel, we will attempt to fill the reservation. If unable, fee will not be returned.
The Club will provide:
* Meals : Breakfast and Lunch on Sat. & Sun.; Dinner on Sat.
* Fishing equipment (on loan) and flies
* Instruction and Mentoring
* Lodging at The Trailhead Inn (one room per 2 adults or adult /child pair). If you are a single applicant, we will pair you with a roommate.  Cost of lodging included in participant cost.
You must provide:
* Transportation to and from Afton State Park "kickoff" meeting and weekend in Preston, MN.
* Fishing license ( a 72 hr. license costs $12 for adult MN resident 16 yrs. and older; free for children under the age of 16).
* Trout Stamp ($10 for adults 18 yrs. and older)
* Waders are recommended.
Our event will accommodate 12 women / girls. Girls must be 12 yrs. old by July 1. If you would like to take part in this event, please fill out the separate application. Mail or e-mail to us by May 1, 2018.  This event is open to members and non-members of FFWNMN. Selection will be on first come/first serve basis.   We will let people know if they have been selected for the event by June 1.
To Apply:
Mail your application to: Fly Fishing Women of Minnesota, P.O. Box 24592, Edina, Mn 55424
E-mail to ffwnmn@gmail.com (attention Girls Fish – June 29-July 1)
Apply online through our Web site at the following link: http://flyfishingwomenmn.com/sign-up-for-girls-fish/
If you have any questions regarding the event or application, please contact Linda  at 651-253-5465 or liradimecky@gmail.com